A Web 3.0 development company can carry your potential into the future. Unleashing Web 3.0:  Your Go-To Development Company for the Next-Gen Internet
As we navigate the digital landscape, a transformation is quietly taking place. This is the shift from Web 2.0 to Web 3.0, the next generation of the internet. It's an evolution that requires a partner well-versed in the technicalities and possibilities of this new era. That's where we come in – your leading Web 3.0 development company.
Understanding Web 3.0: A Leap Forward
Web 3.0, often referred to as the semantic web or the intelligent web, represents a significant leap forward in how we interact with online content. Unlike Web 2.0's static pages and one-way communication, Web 3.0 promises dynamic, interactive experiences powered by artificial intelligence and machine learning.
The Need for a Skilled Web 3.0 Development Company
Amid this digital evolution, the need for a specialized Web 3.0 development company is paramount. Such a company doesn't merely write code; it helps you navigate the uncharted territory of a more connected, intelligent, and user-centric web.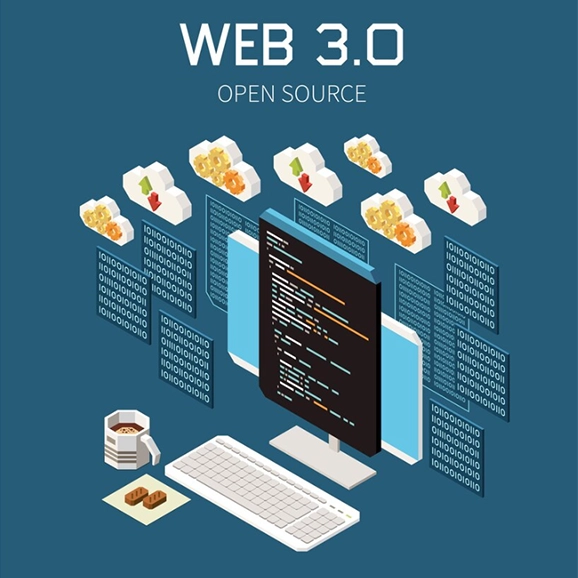 Your Trusted Web 3.0 Development Partner
We're more than a Web 3.0 development company; we're your trusted partners in digital innovation. Our team of experienced professionals is skilled in the latest technologies that power Web 3.0, from semantic web technologies and data mining to artificial intelligence and machine learning.
Building Future-Proof Digital Solutions
Our objective is not just to build websites; it's to build future-proof digital solutions. Leveraging the power of Web 3.0, we design interactive, personalized online experiences that engage your audience like never before.
Why Choose Us as Your Web 3.0 Development Company?
Choosing us as your Web 3.0 development company means choosing experience, innovation, and a commitment to your success. Our team is dedicated to staying ahead of the digital curve, ensuring your business thrives in the era of Web 3.0.
Unleashing the Power of Web 3.0
Web 3.0 holds immense potential. But unlocking this potential requires more than technical skills; it requires a deep understanding of how to leverage the capabilities of Web 3.0 to benefit your business. As a leading Web 3.0 development company, we're ready to help you harness this potential and drive your business into the future.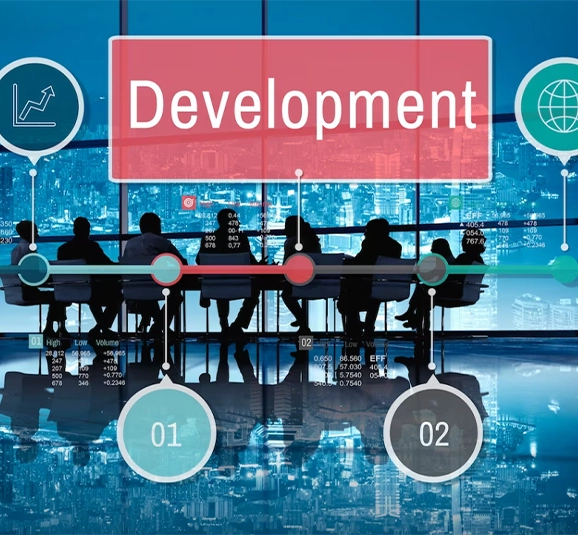 In conclusion, the transition to Web 3.0 is more than an upgrade; it's a digital revolution. And as this revolution unfolds, having a skilled Web 3.0 development company by your side could mean the difference between keeping up with the times or leading the charge. Choose us as your development partner, and let's lead the charge together.
Embracing the Web 3.0 Revolution: A Pioneering Approach
Our approach as a Web 3.0 development company is pioneering. We understand that to truly embrace Web 3.0, we need to think beyond traditional web development methodologies. We prioritize understanding your business and its unique needs, and we design solutions that align with your strategic goals, leveraging the power and potential of Web 3.0.
Our Web 3.0 Development Services
As a full-service Web 3.0 development company, we offer a wide range of services to cater to all your digital needs:
Semantic Web Development: Our team excels in creating semantically correct websites that allow for enhanced data sharing and improved user experiences.
Artificial Intelligence Integration: We integrate AI technologies into your web platforms, enabling personalized user experiences and smarter business insights.
Blockchain Technology: We harness the power of blockchain to create secure, decentralized applications that empower users and businesses.
Data Mining and Analytics: We provide comprehensive data mining services, helping you derive actionable insights from your data.
IoT Integration: We help connect your digital platform with Internet of Things (IoT) devices, creating a truly interconnected and intelligent web experience.
The Future of the Web is Here with Us
The future of the web is not something that's coming; it's already here. Web 3.0 represents a paradigm shift in how businesses and users interact with the internet. As your Web 3.0 development partner, we are here to help you navigate this new era with confidence.
Committed to Your Success in the Web 3.0 Era
At the end of the day, our success as a Web 3.0 development company is measured by your success. That's why we're committed to providing you with top-tier services and solutions that enable your business to thrive in the era of Web 3.0.
In the rapidly evolving digital landscape, the transition to Web 3.0 is inevitable. But with the right partner by your side, it doesn't have to be daunting. Allow us to guide you through this digital transformation, ensuring that your business is ready to lead in the Web 3.0 era. With us, you're not just embracing the future; you're defining it.